Omicron continues to spread in childcare centers across Alberta, causing concern and frustration for some parents who say there is little protection when sending their children to daycare.
EXCERPTS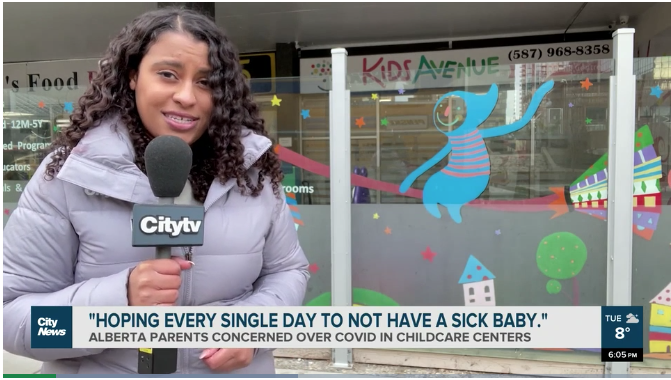 Alberta parents are feeling helpless against the threat of Omicron spreading in childcare centers with continued frustration about the level of protection against COVID-19 offered in daycare centers across the province.
"Omicron is wreaking havoc on those children that are from birth to age five that aren't able to be vaccinated and we don't have any tests to give these families," said Annalise Yuzda, the vice president of child care services at the YMCA.
Feelings of fear and uncertainty are echoed by parents who rely on dropping their kids off at daycare.
"It's honestly been terrifying," said Amy Mendenhall, the parent of a four-year-old. Savannah Ethier, the parent of a 15-month-old, reiterated that feeling of uneasiness.
"It's pretty stressful, to be honest."
Both parents experienced COVID-19 outbreaks at their daycare centre a few times after the holidays.
"It was five days of care and we had an email saying she's a close contact of an undisclosed number of cases including just in her little sub-room," explained Ethier. "We don't know any information beyond that but then it immediately makes us kind of perk up and say 'okay we have to keep an eye on her.'"
Mendenhall detailed a similar experience and said cases just kept popping up at her centre.
"It was just like, this is insanity. And because our children don't count as high risk, it's if you can get your hands on an at-home test. The only reason we can is because she is in preschool," she said.
Mendenhall says it's even harder not having the luxury of keeping her kid home from daycare.
"We don't want them to feel afraid because we don't have an option for her not to go. She has to go, she loves her daycare, she loves her friends, she has no idea that COVID is there."
Meanwhile, Yuzda says the fifth wave has been the worst wave of COVID in childcare.
She says they have tried to get medical-grade masks and testing kits from the government but explains they do not distribute them to daycares the same way they do to schools.
"We did request that from the government, and we weren't successful in obtaining those which is difficult because we deal with the one group of children who can't be vaccinated," she said.
In a statement, the Office of Children's Services says:
"We have allocated approximately $165 million in COVID-19 relief funding to support the childcare sector.
"Programs could allocate the funding towards cleaning and sanitizing products, personal protective equipment, recruiting, hiring, and training additional staff."
They also say that rapid testing kits and masks have been made available to childcare centers, but they are still experiencing supply shortages.