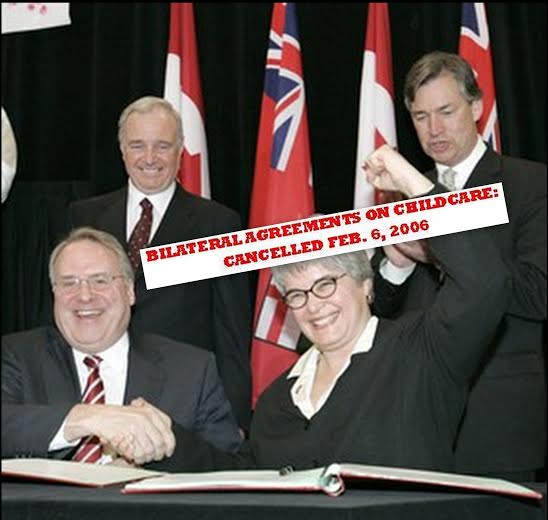 Know Thy History: Looking Back on Child Care
Source:
Childcare Resource and Research Unit
1971
Nixon vetoes child care measure, The Spokesman-Review, Dec 10, 1971
US President Richard Nixon vetoed a $2.1 billion bill to provide comprehensive child care. His veto message spoke of the threat of 'Sovietizing' the American family: "For the federal government to plunge headlong financially into supporting child development would commit the vast moral authority of the national government to the side of communal approaches to child rearing against the family-centered approach".
2006
Harper makes clear to provinces that Liberal national daycare program is dead, Canadian Press, January 26, 2006
"Stephen Harper has all but dashed any provincial hopes that a minority Conservative government might rethink its plan to abandon long-term funding deals for a national child-care program."
Harper had previously criticized the calls for a national approach by saying, "There already are millions of child care experts in this country. Their names are mom and dad."