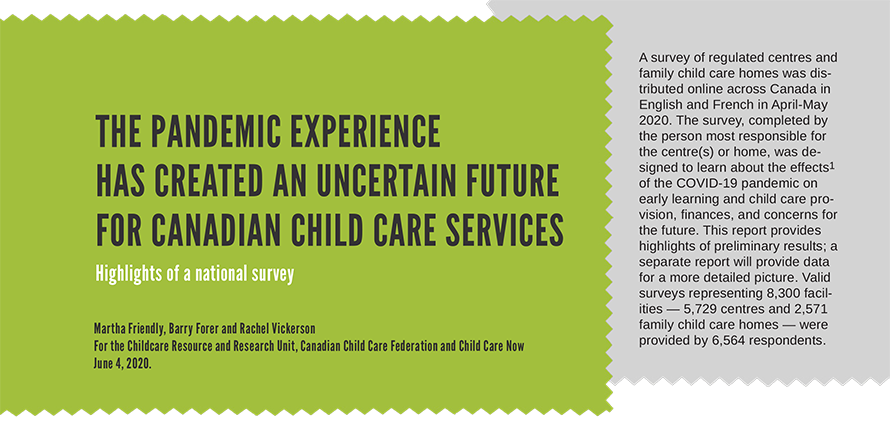 ACCESS: Preliminary results: Data set [PDF] 
"Canadian child care: Preliminary results from a national survey during the COVID-19 pandemic"
ACCESS Highlights report [PDF] (French follows)
EN: The pandemic experience has created an uncertain future for Canadian child care services: Highlights of a national survey
 
MEDIA:
As Canadian economy reopens, will child care be there to support working parents?
The Toronto Star, 10 June 2020
Extending CERB for months could double $60-billion budget, PBO report suggests
Financial Post, 10 June 2020
A survey of regulated centres and family child care homes was distributed online across Canada in English and French in April-May 2020. The survey, completed by the person most responsible for the centre(s) or home, was designed to learn about the effects of the COVID-19 pandemic on early learning and child care provision, finances, and concerns for the future. This report provides highlights of preliminary results; a separate report will provide data for a more detailed picture. Valid surveys representing 8,300 facilities — 5,729 centres and 2,571 family child care homes — were provided by 6,564 respondents.
The COVID 19 pandemic has cast early learning and child care (ELCC) in a new light for many Canadians—as an essential service necessary for rebuilding a well-functioning economy. However, the Canadian child care sector suffered from a confusing, uneven and often less-than-adequate approach by governments to supporting services and parents during the COVID-19 pandemic. The preliminary results of a national survey show significant differences between how jurisdictions responded to the health crisis with respect to ELCC policy, staff, provision funding and parent fees. While the pandemic brought similar challenges to child care services and parents in different regions, the survey showed that how they fared depended on their location in Canada.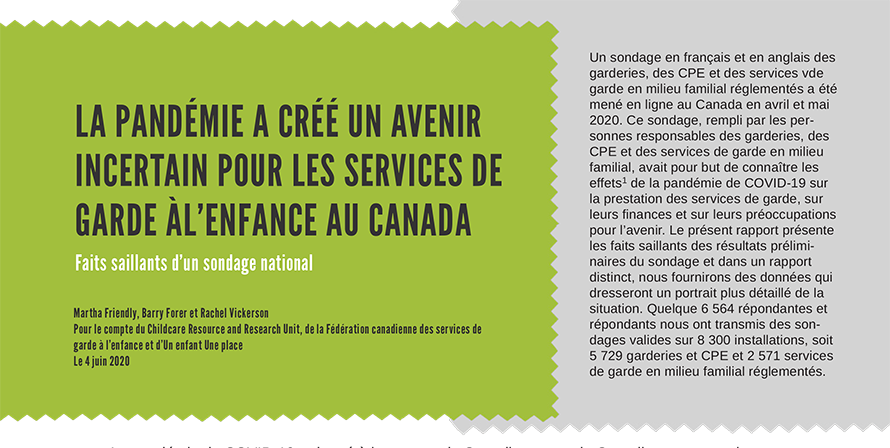 Access FR report [PDF]
FR: Rapport sur les faits saillants ( LA PANDÉMIE A CRÉÉ UN AVENIR INCERTAIN POUR LES SERVICES DE GARDE ÀL'ENFANCE AU CANADA )
Un sondage en français et en anglais des garderies, des CPE et des services vde garde en milieu familial réglementés a été mené en ligne au Canada en avril et main 2020. Ce sondage, rempli par les personnes.responsables des garderies, des CPE et des services de garde en milieu familial, avait pour but de connaître les effets1 de la pandémie de COVID-19 sur la prestation des services de garde, sur leurs finances et sur leurs préoccupations pour l'avenir. Le présent rapport présente les faits saillants des résultats préliminaires du sondage et dans un rapport distinct, nous fournirons des données qui dresseront un portrait plus détaillé de la situation. Quelque 6 564 répondantes et répondants nous ont transmis des sondages valides sur 8 300 installations, soit 5 729 garderies et CPE et 2 571 services.
La pandémie de COVID-19 a donné à beaucoup de Canadiennes et de Canadiens un nouvel éclairage entourant les services éducatifs et de garde à l'enfance au pays en tant que services essentiels incontournables pour rebâtir une économie efficace. Par contre, le secteur canadien des services de garde a souffert de l'approche désordonnée, inégale et souvent moins que satisfaisante des gouvernements pour soutenir les services ainsi que les parents durant la pandémie. Les résultats préliminaires de notre sondage national mettent en relief des différences considérables entre la façon dont les provinces et les territoires ont répondu à la crise sanitaire sur le plan des politiques de services de garde, du personnel, des programmes de financement et des frais de garde. La pandémie a entraîné des difficultés semblables pour les services de garde et les parents dans les différentes régions du pays, mais notre sondage révèle que la manière dont ils s'en sont sortis dépend de l'endroit où ils se trouvaient au Canada.